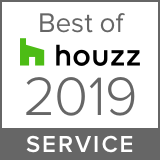 Laggner Constructions – CanberraBuilder
Awarded Best Of Service – Houzz 2019
January 30, 2018 – Laggner Constructions of the Australian Capital Territory has won again the "Best Of Service" on Houzz® for the third year in a row, the leading platform for home renovation and design.
The Best Of Houzz is awarded annually in best service. Customer Service honours are based on several factors, including the number and quality of client reviews a professional received in 2018.
"We are sincerely honoured to receive this award for the third time and be recognised for our efforts in quality client service. We offer better value for each of our clients. We truely specialise in only custom extensions and renovations in the Canberra region."
Follow Laggner Constructions on Houzz.
Laggner Constructions have been achieving outstanding #customhomebuilding results in the #CBR region for nearly 30 years, originally operating in the local area since the late 1960's. They have experienced consistent growth since then and they promise to deliver high quality residential projects throughout the Canberra and local districts.
Phosfluorescently engage worldwide methodologies with web-enabled technology. Interactively coordinate proactive e-commerce via process-centric "outside the box" thinking. Completely pursue scalable customer service through sustainable potentialities.